Jobs and Salaries Primer FY 2022-23 : The Ultimate Guide to High and Low Paying Jobs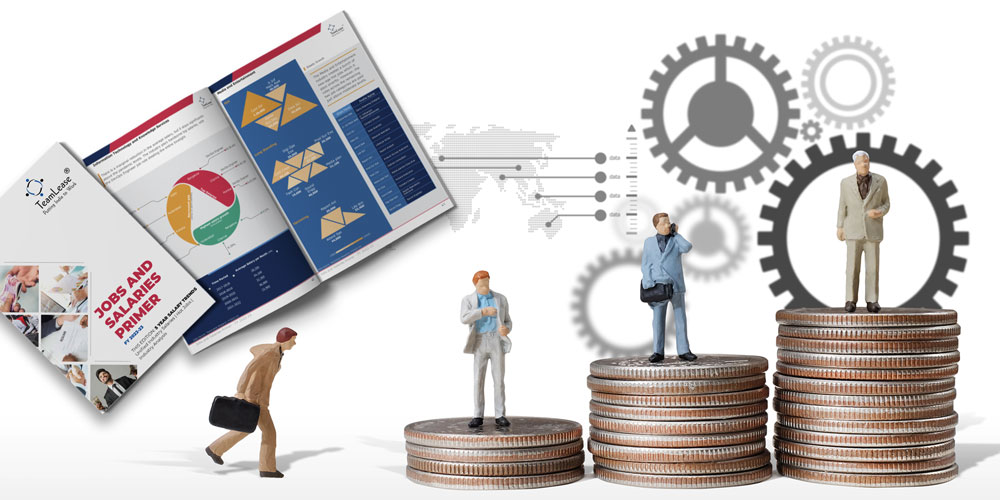 India's steady socio-economic and political environment has positioned it as an attractive market for global companies, contributing to its reputation as a secure and stable environment for continued operations. This stability has played a crucial role in minimising job losses in India, with figures significantly lower than the global average, particularly within the IT services industry. Additionally, the job market in India has shown positive signs of growth and resilience, with new opportunities emerging across various industries. However, salary growth has experienced a slight slowdown compared to the previous years.
TeamLease Jobs and Salaries Primer Report FY 2022-23 provides valuable insights into the dynamic landscape of the workforce, shedding light on emerging job opportunities, in-demand skills, and changing salary trends. It offers a wealth of data and analysis, empowering job seekers and professionals to make well-informed decisions.
Salary growth rate decrease from 10% to 9%
Global headwinds have affected salary growth in India. The job market witnessed a slight decline in salary growth rates, with the growth rate decreasing from 10% to 9% in the fiscal year 2023. This slowdown may be attributed to various factors, including global economic conditions and evolving market dynamics. However, it is essential to note that India's job market has still demonstrated resilience and remains relatively strong compared to global trends. The IT services industry, in particular, has witnessed resilience, showcasing the stability of the Indian job market.
Hot jobs and upcoming jobs
In the fiscal year 2023, the Indian job market showcased promising growth, and interestingly, 11 out of 17 industries created new opportunities classified as "hot jobs." These industries have experienced significant growth and have been a source of employment generation. Additionally, seven industries have generated prospects for the future, denoted as "upcoming jobs." This indicates a positive trajectory for the job market, with diverse sectors contributing to job creation and economic growth.
Some of the in-demand jobs in FY23:
Battery Testing Engineer

Lead Magento Developer

Robotics Instructor

Cloud Architect

Biostatistician

Data Architect

Golang Developer
Top and bottom paymasters
In recent years, several industries in India have witnessed significant salary growth. Telecommunication, Media & Entertainment, and  IT & Knowledge Services are the top three industries that have experienced notable salary growth in FY 22-23. While BFSI, Automobile & Allied, and Agriculture & Agrochemicals have witnessed relatively lower salary growth in FY 22-23.
Industries with steady and quick job growth
Agriculture and Agrochemicals industry has experienced a remarkable digital transformation, leading to the emergence of highly lucrative "hot jobs." IT and Knowledge Services industry remains committed to offering attractive rewards across job categories and prioritises investment in growth-focused roles.
The BFSI industry is actively generating diverse job roles in both hot and longstanding sectors while optimising payouts. BFSI industry is leveraging technology to improve efficiency, drive innovation, and stay competitive in an increasingly digital world.
Resilience amidst attritions, layoffs and changing world of work
While it is assumed that the storm caused by various global headwinds has begun to subside and transition into a phase of recovery, it is crucial to acknowledge that salary continues to be a significant motivating factor for candidates when deciding where to work. In the aftermath of the Great Resignation, layoffs, and attrition, companies should proactively review their salary structures and explore non-monetary strategies to enhance talent attraction and retention.
Implementing learning solutions and upskilling initiatives can be a powerful strategy to combat organisational attrition. By offering employees opportunities to enhance their skills and knowledge, companies demonstrate a commitment to their professional development and growth. Upskilling programs equip employees with the necessary competencies to thrive in their current roles and provide them with a sense of purpose and motivation to stay with the organisation. Companies can cultivate a culture that values growth and creates a positive work environment by prioritising continuous learning, investing in employee development, fostering engagement, and implementing strategies to reduce attrition rates. Moreover, employees who feel supported in their professional growth are more likely to remain loyal and contribute to the organisation's long-term success.
The future belongs to those who are resilient and agile. In today's rapidly changing work scenario, adaptability is crucial. Willingness to embrace and invest in new technologies, work methodologies, and skilling programs will help businesses stabilise and foster long-term growth.
Get a FREE copy of the latest 'Jobs and Salaries Primer 2023' for a deeper understanding of how employers prioritise highly specialised job roles and other valuable insights. Download now!