Industry Overview
As per the CRISIL flexi-staffing industry report, India is the world's second largest labor market. Only around 10% of India's labour force works in formal employment. Redefining the nature of employment and having a greater amount of workers in formal employment will be critical if India's economic development is to become more broad-based, not only in terms of regions, but also in terms of social inclusion.
Globally, the staffing industry has grown considerably over the past few years. According to the CIETT Economic Report 2014, the industry size had reached 11.5 million workers by the end of 2012. Thus, despite the slump in the aftermath of the financial crisis, and the resultant economic slowdown, the industry still had a 7% growth rate over the last decade. A gradual movement towards a more formal set up to employment is anticipated to occur due to various factors such as the increasing number of enterprises turning formal, skills development and regulatory amends in favour of formal and flexi-staffing industries.
Segmental Mix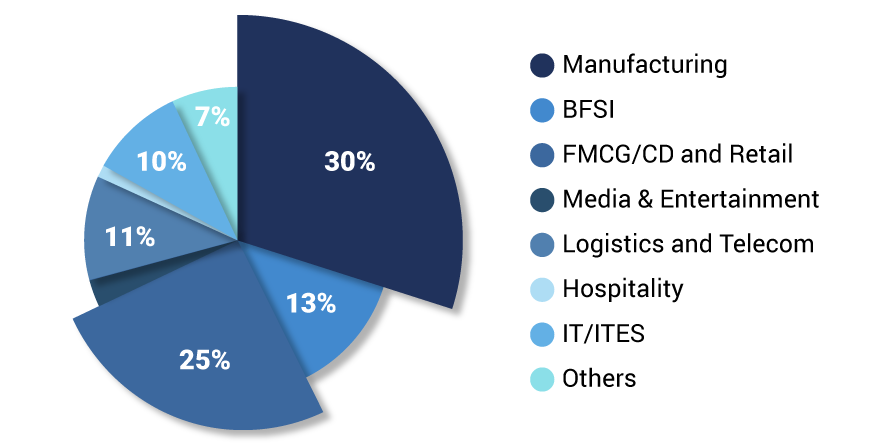 Source: CRISIL Research
Overall current industry growth:
The overall workforce is expected to grow at a CAGR of 2-3% during 2011-2012 to 2018-2019. Sectors such as manufacturing, financial, real estate, business services and retail will continue to have a relatively higher proportion of the workforce. Sectors such as IT enabled services and banking, financial services and insurance are expected to have relatively higher growth in overall employment as compared to other sectors.
Total Industry Employment (Data excludes employment in Agriculture)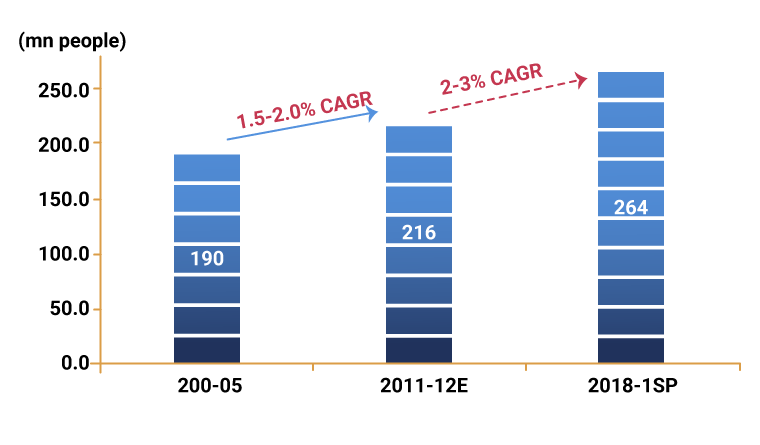 Note: E: Estimated; P: Projected
Source: CRISIL Research
The formal workplace is expected to grow at a CAGR of 9-10% during 2011-12 to 2018-2019. This increase will be across sectors as newer labour laws come into force, and the general overall workforce grows. Apart from manufacturing, which is expected to constitute a large amount of the overall formal employee base, sectors such as fast moving consumer goods and logistics are expected to account for a significant proportion of the formal workforce.
Finally, flexi-staffing is expected to grow at a CAGR of around 20-25% between 2013-2014 and 2018-2019. Although there are new upcoming sectors such as e-commerce that will create fresh demand for flexi-staffing in India, the dominance of manufacturing (which has large proportion of unorganised players) in the industry will increase. Amendments to labour laws will increase the occurrence of flexi-staffing being used.