Business & Strategy
We are one of India's leading providers of human resource services in the organized segment delivering a broad range of human resource services to various industries with a vision of putting India to work. We deliver a broad range of human resource services to various industries and diverse functional roles across India to meet the needs of small and large business clients as well as those of qualified job seekers or "Associate Employees". Our services span the entire supply chain of human resources in India, covering aspects of employment, employability and education. Our employment services include temporary staffing solutions, permanent recruitment services and regulatory consultancy for labor law compliance; our employability offerings include different types of learning and training solutions, including retail learning solutions, institutional learning solutions and enterprise learning solutions.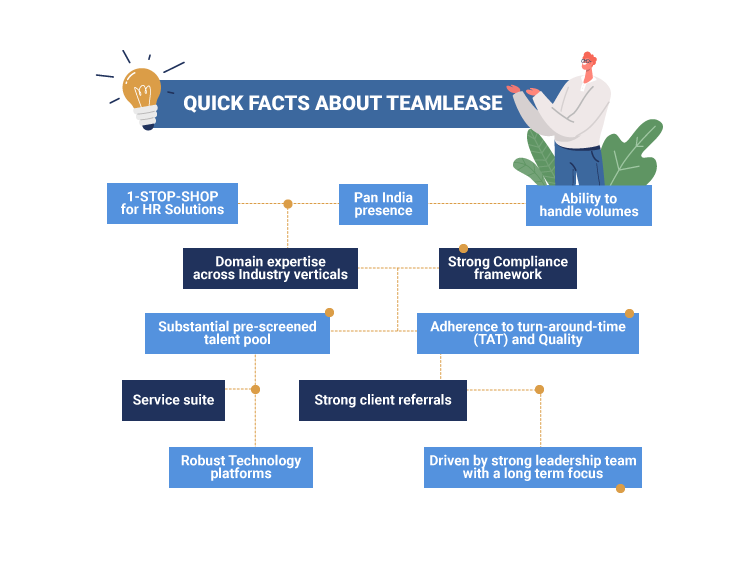 We have provided services under our core TeamLease brand for over 15 years that has resulted in providing temporary staffing to the functional areas across industries. We provide retail training services under the IIJT brand. Our experience and expertise allow us to accurately assess candidates' workplace potential and technical skills to match them to the needs of our clients. We operate through nine branch offices in India, in Ahmedabad, Bengaluru, Chennai, Delhi, Hyderabad, Kolkata, Mumbai and Pune.
In our Staffing business, we had more than 125,000 associate employees spread over 1,900 clients as of December 31, 2016, making us one of India's leading people supply chain companies.
During FY17, we entered into IT Staffing business by acquring ASAP Infosystems, Nichepro Technologies and Keystone Business Solutions with approximately 1350 associate employees across major IT services companies pan India.
We have provided employment to more than 1.40 million Associate Employees since 2002.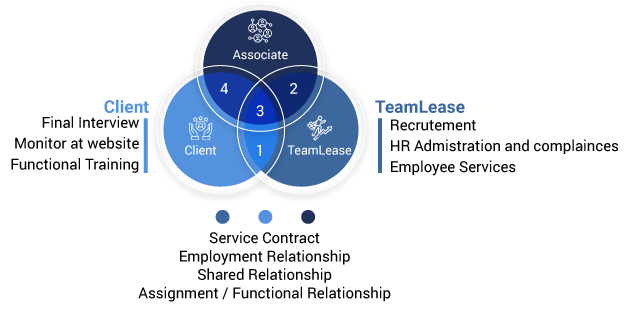 Strategy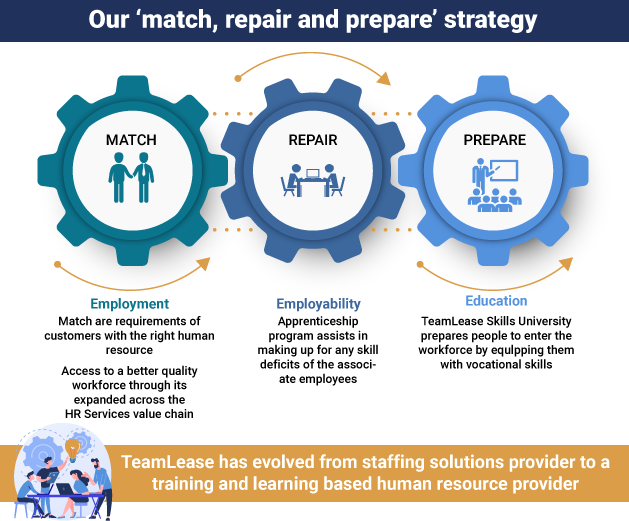 Competitive Strengths
We believe the following business strengths allow us to successfully compete in the industry.
Market leading position with scale ;
Strong compliance practices that enable us to build longstanding relationships with clients ;
Technological and operational excellence;
Strong functional knowledge and expertise across industry sectors; and
Strong management and thought leadership in public policy initiatives and backing by marquee private equity investors.