Powering the Next Wave of Inclusive Growth through Business Correspondents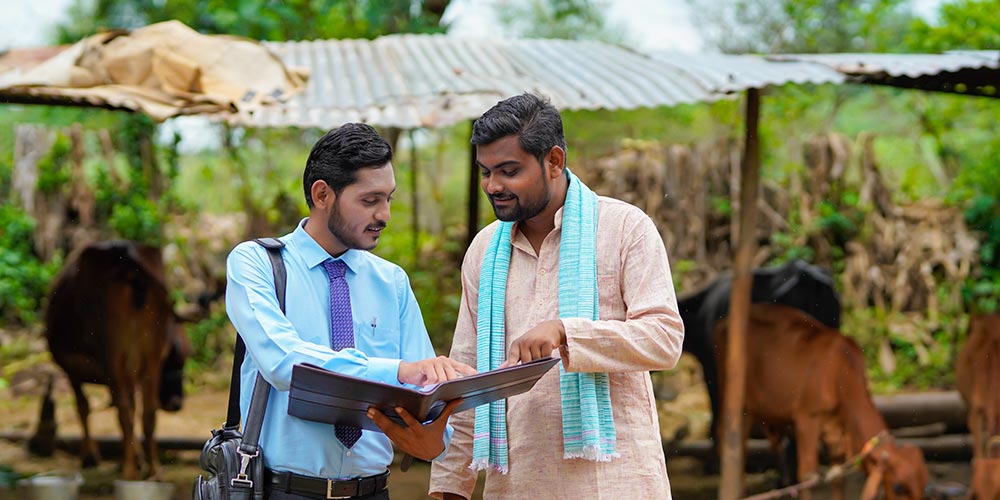 While there are many aspects for a bank to focus on, everyone can agree that customer service is a crucial element that all banks should prioritize. While it may seem like an easy task to increase customer touchpoints, banking in India is still a heavily regulated industry for the benefit and safety of our customers. The challenge is to increase customer interactions without compromising the privacy and security of the customers. As a result, the RBI has proposed a number of initiatives over the years to expand bank outreach in order to achieve greater financial inclusion while maintaining a reasonable level of governance and compliance frameworks. The RBI has come up with the Business Correspondent (BC) model, which is expected to promote financial inclusion in hard-to-reach rural areas as well as deeper penetration in urban areas of the country.
Introduction
RBI issued guidelines in January 2006 for banks' engagement of business correspondents (BCs) for providing banking and financial services. Since then, the regulatory framework for the BC model has been progressively refined to ensure that consumer protection is not compromised while facilitating enhanced outreach of banking services.
Business Correspondents (BC) are the retail agents provided by the bank for banking and financial services to customers other than the bank branch or ATM. BCs make it easier for the bank to offer a small number of low-cost services. BCs are considered practical solutions to extend basic banking services to the country's nearly 6 lakh village habitations.
BCs facilitate the delivery of financial services to millions of consumers. The operations performed by BCs must fall within the regular parameters of the bank's banking activity. Still, they must be carried out via and by the retail agent at locations other than the bank's facilities. The retail location or sub-agent of BC can only represent and offer banking services for one bank.
The business correspondent is authorized to accept or deliver cash either at his place of work or any suitable location, subject to the ceilings per day / per customer as specified. These BCs are linked to the nearby branch of the bank, also known as the base branch. The terms and conditions of the contract between the bank and the BC must be carefully spelt out in writing and reviewed by legal vetting.
What types of products and services can be provided by BCs?
The roles and responsibilities of BCs can be defined under the contract between the bank and the retail agent, which may differ from other banks' norms and conditions.
Business Correspondents are responsible for executing numerous functions, which have been explained below:
By identifying prospective customers for the bank, business correspondents engage prospects in generating awareness among customers on the bank's available service options and financial products.

BCs run a small campaign at the ground level to educate and advise their customers on managing money, debt counseling and recommending small loans to target customers.

BC also promotes, nurtures and monitors Self Help Groups, Joint Liability Groups, Credit Groups, and other cooperative societies in rural and suburban areas.
Day-to-day tasks which BCs perform
Business correspondents collect and handle preliminary processing documents for deposits that involve verification of primary information/ data.

They are responsible for enrolling customers for various financial products and services. This also involves filling out various applications and documents of products and services the bank provides in that area.

Business correspondents also complete the whole "know your customer" (KYC) procedure as part of the opening formalities requiring the occasional collecting of crucial client information.

They are authorized by the bank to provide account statements and other account-related information for a minimum period of 3 months to their customers.

Business correspondent promotes cross-sell and promotes products through kiosk banking facilities, including mutual fund products, pension products and other such third-party products.
Disbursing and Collection through Business correspondent
The business correspondents are accountable for collecting and paying small-value deposits and (cash) withdrawals, the maximum value of which is Rs. 2,000 per transaction, while there is no minimum limit.

Business correspondents are responsible for handling the receipt and delivery of small-value remittances.

Depending on bank guidelines, they are also involved in disbursing small loans, like entrepreneurial and agricultural loans.

They are monitors and collectors for the bank's loan customers.
Who can act as a business correspondent?
When the BC model was introduced in 2006, few institutions were authorized to function as BCs, including NGOs and MFIs established under societies or trust statutes, societies registered under the Mutually Assisted Cooperative Societies Act or the Cooperative Societies Acts of States, Section 25 businesses, and post offices. Later in 2008, the RBI refined its guidelines and included banks where banks can engage such companies as BCs, which are stand-alone entities, or Section 25 companies, in which NBFCs, banks, telecom companies, and other corporate entities or their holding companies do not have holdings in excess of 10%.
The Committee on Inclusion, which is led by Dr C. Rangarajan, thinks that banks are getting worried about the lower margins they can make on financial intermediation because there is more competition among them. They also think that small-value clients (depositors) in remote areas don't get much help getting access to financial services.
The agency that wants to serve as BC must have a workforce that can be deployed across India. A BC agent should have strong sourcing channels such as referrals, online and offline channels, partner channels, and university and college connections.
The BC agent must have a model that assists the bank in hiring or Hire-Train-Deploy business correspondents. The BC agent is also given the infrastructure and asset service needed to set up offices all over India and run the BC model according to the bank's rules and guidelines. A BC agent should have strong compliance norms that adhere to RBI guidelines to run the business model.
Why should Banks adopt the Business Correspondent Model?
Low operation cost for banking service – In-person discussion with BC agent will lead to more CASA deposits at a much lower cost.

Performing banking at a mobile location – rooted in the local community will give you a great advantage, banks will be close to their rural clients.

Agility in service – BC provides better flexibility in terms of the delivery of financial services.

Reactive response – BCs are more responsive to the needs and challenges of local clients.

Local Engagement – Banks are generating local engagement through the BC model.