Why are Women Employed in Low Paid Work?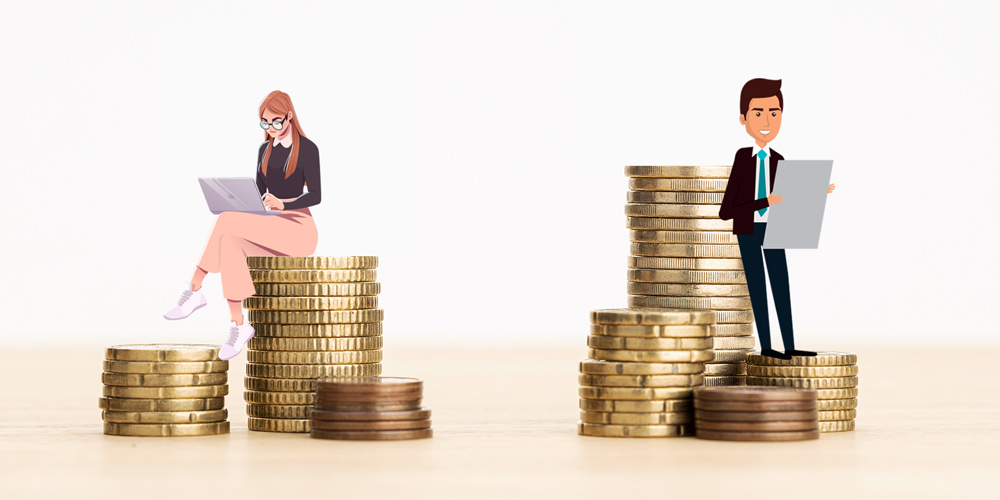 Michelle Obama once said, "No country can ever truly flourish if it stifles the potential of its women and deprives itself of the contributions of half of its citizens". While women have achieved comparable levels of competence to men in the workplace, there persists a pervasive gender gap across various aspects. Women continue to face lower remuneration than their male counterparts, even when performing similar job roles. Moreover, women tend to be concentrated in specific industries, usually characterised by simpler job entry requirements, lower wages, and limited job security. Within these sectors, they tend to congregate at the lower echelons. Another contributing factor to this disparity is the higher likelihood of women engaging in "informal" or risky forms of employment. These jobs often fall beyond the scope of labour laws and inspections, rendering women more vulnerable to exploitation.
India's significant decline, as per the Economic Forum's Global Gender Gap Report for 2021, dropping 28 places to rank 140th out of 150 nations, further reflects the persistent challenges and obstacles faced by women in the country. At the individual level, there is more confidence in the youth and more confidence in the women now. As individuals, they are seen as being more educated, financially independent, digitally and economically savvier, and more career-oriented. Yet, despite India's growing economic prosperity, the larger picture is very different. World Bank data 2022 shows that in India, the labour force participation rate among females is 24% and among males is 73.6%.
Let's explore the root causes behind why are women employed in low paid work:
Gender discrimination:

Whether deliberate or unintentional, gender discrimination is one of the main reasons women are employed in low-paying jobs. According to studies, women frequently earn less money than males in the same profession or sector, despite having the same skills and background.

Education and training:

The need for more options for education and training contributes to women's employment in low-paying jobs. Once more, gender discrimination is a significant factor in this. Women are also expected to stay inside the four walls of their homes or in the kitchen. The major role of Indian women is essentially caregiving duties. Although many women strive to fulfil their goals of pursuing higher education and professional life, they are compelled to take a backseat.

Technical skill:

Technical skill is another area where women are underpaid compared to males. Despite doing the same amount of physical work as women, men are generally seen as more technically skilled than women.

Job location:

Job location matters for women. According to studies, a woman typically rejects job transfer during her employment and places restrictions on shift length or night hours.

Family responsibilities:

Women perform a significant amount of unpaid caregiving tasks, such as caring for young children, elderly relatives, and household chores. This may hinder their ability to work and advance in their careers. Many women today choose part-time or low-paying work to balance their professions with their caregiving responsibilities.

Lack of flexible working provisions:

The concept of work-life balance is still evolving in India, especially for women who face unique challenges in balancing their professional and personal lives. However, there are positive developments taking place that are making it easier for women to achieve this balance. The rise of women entrepreneurs is a positive trend that highlights the need for more flexible working arrangements and policies. It is important for both the government and private sector to continue working together to create more flexible and inclusive working arrangements and policies for women in the workforce such as telecommuting, job-sharing, and flexible schedules.
Occupational segregation:

One significant cause is the propensity for men and women to work in distinct industries and professions, sometimes known as occupational segregation. Women are frequently overrepresented in lower-paying areas like education and healthcare and underrepresented in higher-paying ones like technology and finance. This may result in a sizable pay gap between men and women.

Women's safety at workplace:

Ensuring women's safety is essential to creating a healthy and productive work environment. The Sexual Harassment of Women at Workplace (Prevention, Prohibition, and Redressal) Act of 2013 was enacted to prevent women from experiencing sexual harassment in the workplace. In addition to the act, the Ministry of Women and Child Development has developed guidelines for employers on preventing and responding to sexual harassment at work. These offensive and humiliating experiences often result in emotional and physical trauma and related illnesses, reducing morale and productivity.

But research reveals that the issue and its awareness have progressed significantly in a brief time frame in the workplace across the globe.
Soft skills:

Due to societal norms, women have limited prospects for growth opportunities. Women also need to gain soft skills necessary for the 21st century, such as leadership and communication. They can learn essential digital technologies and soft skills like leadership through upskilling.

Negotiation and self-advocacy:

Lastly, negotiation abilities and self-advocacy can also impact the pay gap. Women are frequently socialised to lack assertiveness and to avoid salary negotiations, which can cause them to be paid less than their male counterparts.
The reasons mentioned above why women are employed in low-paid work are just a few instances among many factors affecting women from earning more. Women's low involvement is primarily a result of the deeply rooted patriarchal institutions that deny them equal opportunity. Many women prefer to pursue part-time employment and other key considerations like child care and working from home as they often have to balance their careers with traditional family responsibilities. Women are forced to withdraw from entering the workforce and learning 21st-century technology skills due to a lack of access and literacy, which has had a negative effect on the economy.
Despite their many obstacles, most women need and want to work. Statistics understate entirely how much work women do for no pay at all. When work at home is included, women worldwide put in far more hours than males. India has one of the lowest percentages of women workforce worldwide, and data from the ILO shows that the percentage is currently less than 30% and has been falling over time.
In 2022, the Supreme Court recently called for greater support for the staff of Anganwadis; this is seen as creating more productive employment opportunities for women while improving the quality of their children. Employers can equally play a prime role in bridging women's workforce participation. Organisations can focus on the skill set required for positions rather than qualifications alone – doing this will likely widen women's recruitment pool substantially.
You might also like to read our report on "No Women Left Behind", a comprehensive study showing that a significant proportion of the women who are currently in the workforce do not have access or are not eligible for any social security benefits.
At TeamLease, efforts are persistently underway to comprehend and address the gender gap, striving to improve female participation in both the workforce and leadership positions. The focus remains on finding effective strategies to reduce the disparities that exist. Prioritising gender equality in the workplace can deliver a positive social impact while reaping the tangible business benefits of a diverse and inclusive work environment.
Join us in creating gender equality at work! If you are looking for more women to join your workforce and drive positive change, please connect with us.