13 Reasons Why Staffing Solutions Can Ease Your HR Woes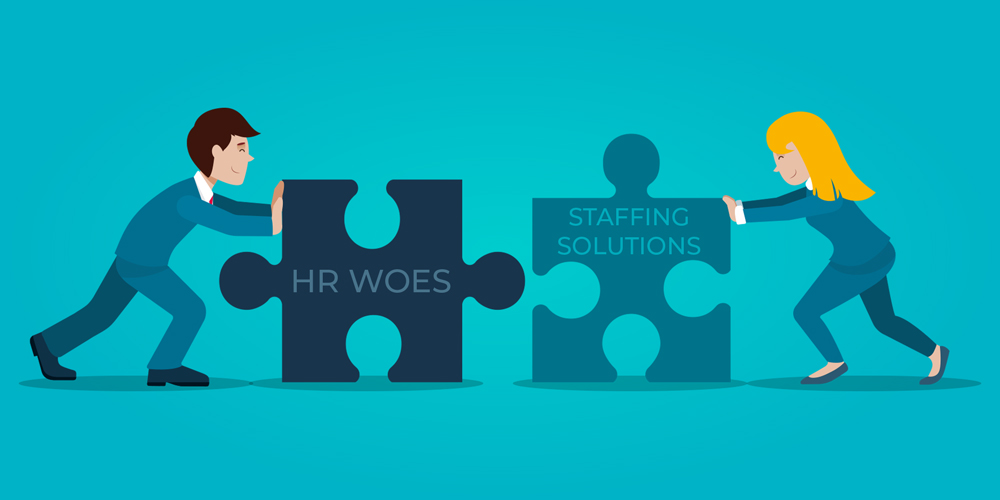 When the world is battling inflation, automation, digital divide, attrition, and a haunting global recession, it is imperative to weigh how the Indian employment market is transitioning. 2022 witnessed some of the world's most prominent organisations lay off their employees in huge numbers, which is still lingering around in 2023. The mass layoff resulted in joblessness almost around the globe, not sparing India. Simultaneously, retention was dialled back, making it challenging for the recently unemployed to secure another job. Attrition continues to spike even as IT biggies reduce their hiring. Employers are continuously bogged down with talent shortage, increased competition, inefficient recruitment processes, and lack of a talent pool. Staffing shortages are inevitable in this environment, regardless of how well a business manages its employees.
Companies in such VUCA environments must look to simplify recruitment, reduce negative outcomes due to ineffective candidates, and escape the conundrum of the lay off process. A collaboration with staffing firms could be the best balanced mid-way solution to overcoming these challenges and fulfilling their requirements. While most companies know that staffing firms have proven successful in delivering talent to businesses across the country, some are still debating its benefits.
Here are 13 reasons why companies should seek staffing solutions:
Finding the Right Talent:

In India, the country's working-age population is expected to increase by over 100 million people between 2020-2030, according to a report by the Confederation of Indian Industry (CII). As more people enter the job market, companies must find ways to set themselves apart and attract the best candidates. This is where staffing agencies come in, assisting employers in connecting with top talent who meets their specific requirements.

Access to Vast Talent Pool:

A reputed Pan-India staffing firm has a comprehensive portfolio of access to talent. It can supply any tech/non-tech talent required due to their scale of sourcing and keen eye for talent acquisition process. Companies can avoid making wrong hires with the help of a staffing agency's quick placement and credible verification process.

Accelerate Hiring Process:

A staffing firm manages the voluminous task of screening and evaluating resumes, which can be daunting in a country like India. This saves companies a lot of time as their internal team doesn't have to  assess hundreds of resumes to find the right placements. When companies work with an IT staffing company, they  outsource their  bulk recruiting efforts, thus speeding up and streamlining their hiring.

Specialised Recruitment Needs:

Some industries or roles may require specialised knowledge or experience that is not readily available to the company. Staffing agencies with expertise in these areas can help identify and recruit suitable candidates.

Diversity and Inclusion:

Staffing agencies have access to a more diverse pool of candidates, helping employers to improve their diversity and inclusion impact.

Flexibility:

Staffing agencies can provide temporary or contract workers to meet specific short-term needs, or help fill permanent positions. This can be particularly useful for businesses that experience fluctuations in demand or have specific project/time-based needs.

Reduction in Turnover:

Staffing agencies can help ensure that candidates are well-suited to the role and have a good cultural fit with the company, hence reducing turnover and associated replacement costs.

Increased Productivity:

Staffing aids in recruiting the right candidate for the job role within the organisation. It focuses on human resource recruitment, training, and development in organisations, which contributes to increased productivity. The Hire-Train-Deploy model is a disruptive training and hiring program that aims at bridging the gap between industry expectations and the time required to hire talent ready to be employed on the main job immediately.

Cost-effective:

Outsourcing recruitment to a staffing agency can be more cost-effective than conducting the process in-house, especially for smaller companies that may not have a dedicated HR department.

Handle Onboarding and Payroll:

A significant benefit of using staffing agencies is that the staffing agency takes care of the temporary employees' onboarding paperwork, payroll taxes, workers' compensation, and unemployment benefits.

Mitigation of Risk:

Staffing agencies have expertise in compliance with employment laws and regulations across states in the country, reducing the company's risk of legal issues related to hiring and employment.

Leverage Technology:

When it comes to staffing, technology can reinvent standard practices and support to automate already game-changing ones. In this fast-paced economy, staffing agencies have always been required to innovate in novel and creative ways.

Oversee Company Compliance:

Before the economic emergency of 2008 and the Great Recession, compliance might have been considered a hefty expenditure but not anymore. Outsourcing compliance processes has enabled companies to meet global compliance needs and drastically reduce overhead costs, including infrastructure and operating costs.
Growth lies in learning how to dance in the downpour
The future demand for skills is constantly evolving due to advancements in technology, changes in industry, and shifts in the global economy. Creativity, time and project management, agility, IT automation, data analysis and statistics will continue to be the top in-demand skills and employers will continue to wrestle with finding the right talent, the right fit. Outsourcing staffing needs to a trusted third-party agency can provide a range of benefits for businesses of all sizes, from cost savings and time savings to access to a larger pool of qualified candidates and specialised expertise in recruitment and hiring. By partnering with a reputable and compliant staffing agency, businesses can build a skilled and reliable workforce, reduce risk, and focus on core activities that drive growth and success.