Celebrating the CEOs of Every Home Enterprise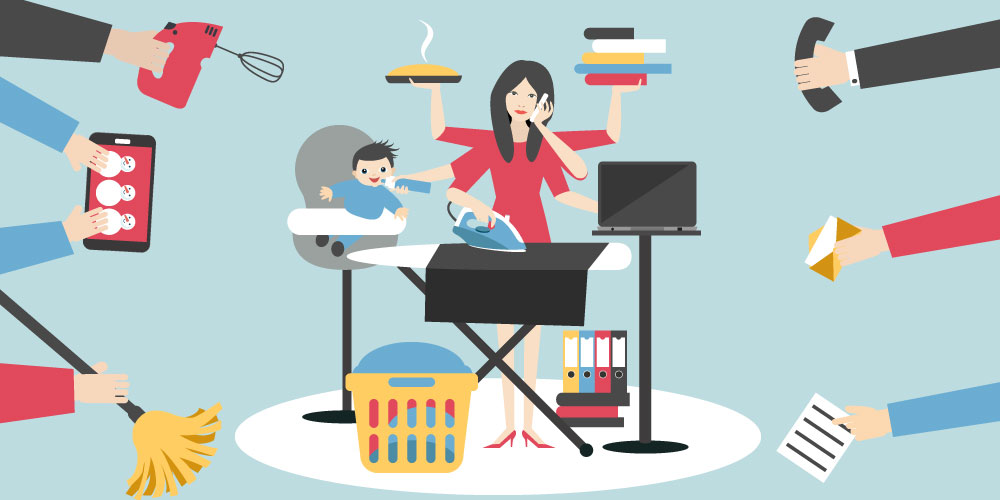 Women in India perform a significant amount of unpaid labour at home, including but not limited to cooking, cleaning, childcare, and caring for the elderly and other family members. This work is often undervalued and goes unrecognised, making women, especially housewives, economically dependent on their fathers, husbands or families and invisible to the GDP calculations of the economy.
Despite their vital role in their families and communities, women in India tend to face social stigma and struggle against the discrimination caused due to their lack of formal employment or perceived lack of economically viable agency. Despite the adage that a smoothly functioning family is the building block of a balanced community, a rich society and a productive economy, women's role is more critical than we give them credit or compensation.
According to studies, Indian women spend up to nine times as much time doing chores as men at home. While men are compensated for their work outside the house, women are expected to undertake much more of the same tasks for free at home as their "duty".
Should women be paid for the household work they do?
There have been many arguments around the care work provided by women getting paid. On the one hand, women perform meaningful work contributing to the rearing of productive individuals in society, the smooth functioning of households, and even contributing to the broader society. They often perform tasks such as cooking, cleaning, childcare, and managing household finances, which are essential for every family's well-being. Their work is as important as paid work, if not more, and should be compensated or recognised at par, accordingly.
On the other hand, paying women for their unstructured work can be challenging. It can be difficult to determine a fair wage for their contribution or calculate the hours their contribution equals in work terms. Also, Some people believe that women should not be paid because their work is part of their contribution to the family, and it is a personal choice to stay at home and take care of the household.
Whether or not women should get paid for their work in the house is a matter of debate and might be best left to personal opinion. However, it is essential to acknowledge the value of their work and support policies that promote gender equality and fair compensation for all types of work, including unpaid care work.
Women Working after Marriage
A recent National Family Health Survey (NFHS-5) report suggested that only 32% of married women aged 18 and 49 are employed. This percentage is much higher for married men in the country, 98% for the same age group. Fortunately, this percentage has increased compared to the last report of NFHS-4. 
As the doors of women's jobs open, women also take advantage of the various opportunities they are eligible for. With the nation's growing economy, more and more women are getting their home businesses up and running, freelancing, and providing services to generate alternate streams of income for their families. 
Although women are being empowered and are increasingly working, most women end up having to take a break from their careers due to some or other responsibilities, like childbirth, rearing of infants, transfer of spouse's work location, etc., which is looked down on when returning to work after a gap.
A recent report by the National Sample Survey Office (NSSO) on women's participation in India's economy estimates that there are over 20 million housewives in the country. The report further said that the share of housewives in the GDP of India is expected to increase in the next few years as women become more empowered.
Women in Leadership
In India, 17.1% of the board seats are held by women, according to the latest edition of Deloitte Global's Women in the Boardroom report. This is 9.4% higher than the 2014 edition when the Companies Act mandated that one woman should be on every board. In addition, 3.6% of board chairs are female, 0.9% lower than the 2018 figure. 
There is a definite improvement, and the momentum of change is picking up, yet there is a long way to go for us to be recognised as an equitable society.
Helping Women Transition back to Work
It is a common misconception that women with gaps in their resumes lack experience. Women should be credited for their experience in running their home enterprises. They develop and leverage a myriad of skills like, soft skills, conflict resolution, health management, and people management skills while managing a household. They also manage their household's monthly budget, providing them with practical financial management experience. They should be recognised at par based on these experiences if not equal to their male counterparts with professional enterprise experience.
Still, women often find it challenging to transition back into the workforce after taking a break from their careers.  However, they can successfully make the transition with proper support and guidance. This can be achieved through mentorship programs, career counselling, online courses and programs, and staying current with job market trends.
Many companies, like Goldman Sachs, Cloudflare, Microsoft, Morgan Stanley, Accenture, Amazon, IBM, etc., have offered return-to-work programs to help women transition back to work through numerous programs. These programs run for a few months providing Training, experience & Networking opportunities to professionals for a smooth transition.
Countries Supporting Women
Many countries have implemented policies and programs to empower women and this is to help them transition back to work after taking time off for caregiving responsibilities. Here are some examples:
The Canadian government provides numerous programs and initiatives to help women re-enter the workforce. These include job training, subsidised childcare, and tax credits for caregivers.
Sweden has one of the world's most generous parental leave policies, with up to 480 days of paid leave per child. The government also offers subsidised child care and flexible work arrangements.
The UK has multiple programs to aid women returning to work. "The Women Returners Network" is one of them, and it offers coaching, training, and job opportunities for women who have taken a career break.
The Australian government provides various programs to aid women in returning to work. These initiatives include free career counselling, flexible work arrangements, and subsidies for child care.
France has implemented various policies to support working mothers. These include subsidised child care, paid parental leave and the right to request flexible work arrangements.
Conclusion
Women in India have and continue to face significant challenges through social stigma and discrimination due to their lack of formal employment, despite their vital role in households and communities and the experience they gain from this home enterprise management. However, there is hope for change as more and more women are taking advantage of various opportunities to generate income from their homes. 
It is essential to acknowledge the value of their work, not just the monetisation of it, and support policies that promote gender equity and fair compensation. In addition, it is also crucial to help women transition back to work after a break. Many countries have implemented policies and programmes to empower women and facilitate their return to the workforce. In the end, it is pivotal to continue working towards gender equality & equity and to support and grow women's participation in all aspects of the workforce, the economy and the society at large if India wants to achieve its true potential in the coming decades.
To know more about Women Participation in the Indian Labour Force, do remember to check out our No Women Left Behind Report.