Drones will Reshape Mid-Mile Deliveries

If you haven't already watched the drone show that marked the count-down to the FIFA 2022 Qatar World Cup, you definitely should.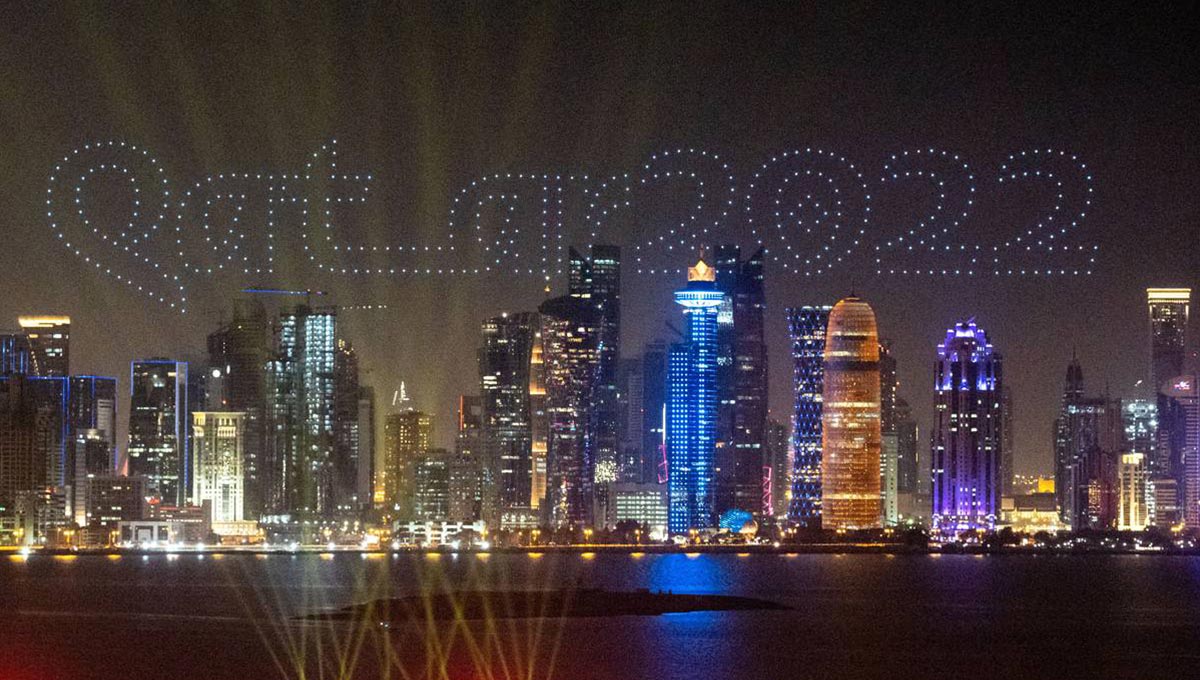 Pre-programmed UAVs (Unmanned Aerial Vehicles) or drones can be a thing of beauty to light up the sky or a reconnaissance and defence equipment like the Predator or Byraktaar Drones, or even an offensive weapon of destruction. The possibilities and use cases of this great technological innovation are plentiful. Since the conceptualization of drone deliveries was envisioned by Jeff Bezos back in the day, have we slipped off the track or can this vision still be realised?
India's thirst for super fast delivery still remains unsatiated in many parts of the country. Be it due to a lack of good roads or bumper-to-bumper congestion, the delivery partners face a harrowing challenge in completing deliveries. The demand for faster and more efficient mid-mile delivery for the e-commerce and quick-commerce industries is growing at a tremendous pace.
Would mid-mile drone delivery be the solution to this? How would this affect the jobs of the delivery partners?
Let's discuss!
Would drone deliveries be viable in India?
India could be a drone pioneer. According to Drone Industry Insights Report 2020, the worldwide drone market will reach $42.8B by 2025 at a 13.8% CAGR. India is estimated to be the third-largest drone market by 2025.
Airborne deliveries could begin within the next few months, under the Center's amended Drone Rules 2021. The amended Drone Rules 2021 have facilitated drone operations around the country, particularly in cities.
In India, the use of drones for delivery is poised to take off, thanks to significant motivation from companies and government support. For example, Swiggy is actively planning trials for mid-mile deliveries in an effort to reduce costs and improve delivery times. Mid-mile delivery systems in cities necessitate extensive route design and testing before they can be scaled.
When it comes to achieving our government's goal to become the drone capital of the world with the support of organizations like DFI (Drone Federation of India), a non-government, non-profit, industry-led group, we're not far off. The DFI strives to build a conducive environment for drone service operators and manufacturers, by being a bridge between the industry and the government. Developing a safe, scalable, and sustainable flying environment in India is the goal of the DFI, which promotes the interests of its members in government, industry, and public affairs; improves the quality and profitability of manufacturers and service providers; and encourages content and technology innovation.
What would the rules and regulations be?
The Drone Rules apply to drones with an all-up weight of 500 kg (weight of drone and payload combined), an increase from the previous maximum of 300 kg. The UAS Rules have preserved the weight categories for defining drones as nano, micro, small, medium, and large.
The additional variables of maximum flight speed and maximum attainable height considered in nano drone categorization have been removed.
Except for those who use nano or micro-drones for non-commercial purposes, all drone operators must be licensed. Applicants seeking a drone pilot's license are required to complete training from an accrediting agency.
The Indian government has also released a zone-based chart of the country's airspace that is suitable for drone use. Drones are allowed to fly in the green zone, but they are prohibited from doing so in the red zone and only with authorization in the yellow zone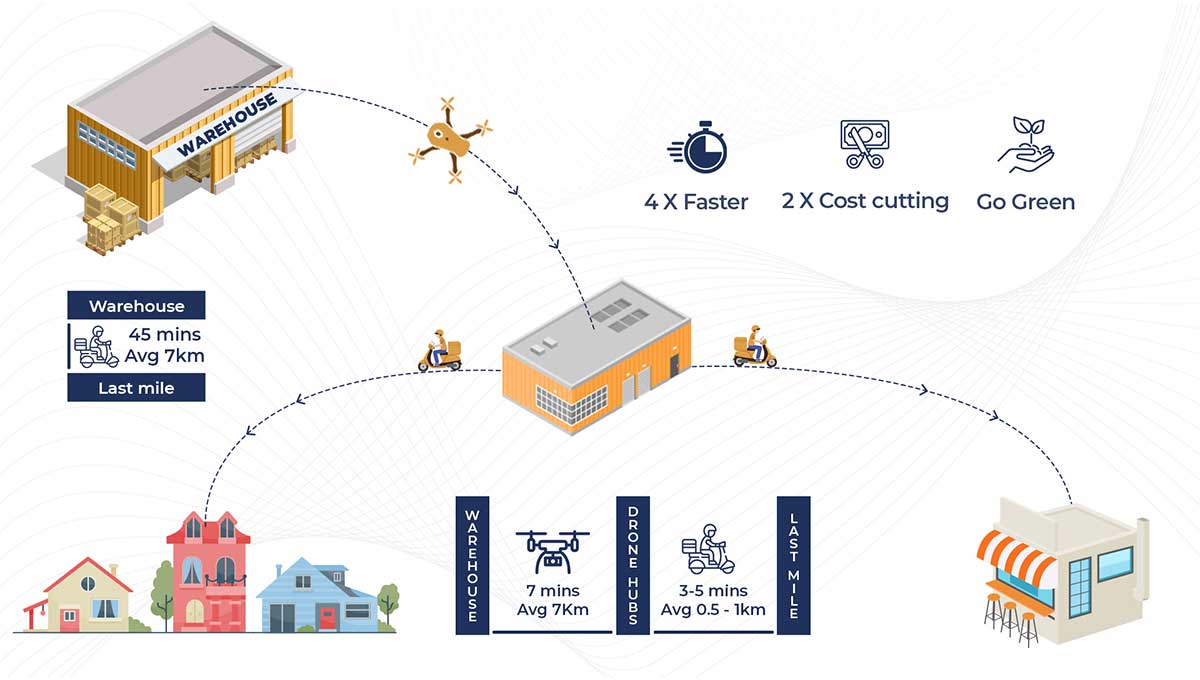 What would it mean for delivery partners in the e-commerce industry?
Despite the fact that drone delivery is still in its infancy, it is widely accepted as the best method for delivering small goods, medicines, and food to some remote regions that are difficult to access by road.
While delivery partners will remain the primary mode of delivery, they will be supplemented with drones in order to help delivery executives get products to their destinations faster. Drones will be used for mid-mile deliveries. Drones will be utilized to refill inventory between seller-operated dark stores and from a store to a common customer point. Following that, a delivery partner will pick up orders from the common location and bring them to the customer's door. Drones can simply fly over traffic jams in the cities, saving a lot of time and thereby increasing the value-for-money argument.
What are the challenges for drone operators in the last-mile delivery in India?
Last-mile logistics in India is difficult. Getting individuals connected to the correct technology while keeping costs reasonable will be difficult.
Drones will be used more frequently in remote places with limited road access. The plan would be to use them for only emergencies in the initial phases of deployment (Delivery of medicine)
The economics of last-mile delivery was discovered to be based on two aspects. They were "drop-size" and "route-density". The number of deliveries that could be made on a delivery route was referred to as route-density. In supply chain parlance, this was referred to as a "milk-run," while "drop-size" referred to the number of parcels at each stop on the milk run.
If the number of deliveries was high, the cost per delivery would be cheap. Furthermore, if several shipments are dropped off in the same area, the cost per delivery will be minimal.
Both of these economic components of last-mile delivery are underserved by drones. Drones often carry only one box, and after delivery, the drone must return to be recharged and pick up the next product. In supply chain terms, these drones adhere to the hub and spoke concept.

Indian city's tiny alleyways, lack of regularity in the building architecture, and strewn with wires would make things difficult for drone operators to map and carry out tasks.
How might solving the above challenges affect e-commerce last-mile delivery and what are the other use cases of drone technology?
For e-commerce businesses, the use of drones to automate delivery is a convenient way to satisfy both customer convenience expectations and last-mile delivery difficulties all in one fell swoop.
Last-mile delivery by drones for e-commerce companies can be a wonderful alternative to ground-based services, especially in rural areas with populations under 50,000, where the need for rapid and immediate delivery is increasing.
Drones can deliver medicines, food, groceries, and apparel. With the help of the Indian state government, drone delivery startups like TechEagle are delivering vaccines and other medical supplies. Quick drone deliveries save time, strengthen supply chains, and cut costs.
Deliveries to city skyscrapers or high-rise buildings can be made with relative simplicity and speed.
Terrain mapping and natural disaster management can be optimally performed using dronesKisan Drones are currently being utilised for agricultural evaluations, the recording of land data, and the spraying of pesticides and nutrients.
What kind of new jobs would emerge?
While many of the new employment created in the industry will be in manufacturing and as drone pilots, other positions such as:
Drone photography
Drone maintenance
Survey mappers
Design engineers and assemblers
Pilot trainers
Drone flight planners
Drone software engineers
Drone Data Specialist
will also become available in the near future. A statement by the government (Ministry of Civil Aviation (MoCA) claims that more than one lakh jobs are expected to be created in drone services during the next three years. In addition, India will require approximately one lakh drone pilots in the future to operate a wide range of drones.
At this time, the ATM (Air Traffic Management) systems in place are not equipped to handle the influx of traffic generated by unmanned aircraft. Automated UAS Traffic Management (UTM) must be developed in order to meet these needs. In the future, this technology could be merged into a more conventional ATM. The emergence of government jobs in the improved ATM can be expected.
More must be done to disseminate critical knowledge and to build infrastructure and a pipeline for young people who want to be taught, certified, and employed in drone technology. This is a chance for rural young people to get a foothold in the tech industry.
Key Takeaway:
As the drone delivery sector expands, new positions such as drone pilots, drone assemblers, and drone trainers will be in demand. Sizeable proportions of the jobs in the sector will be drone pilots and drone manufacturing
The capacity to carry more material over longer distances boosts the cost advantages of using drones in the middle-mile over traditional transportation.
By 2025, India is predicted to be the world's third-largest drone market.
Planning routes and paths, executing pre-flight checks, scouting and other mechanisms will need to be put in place for using drones in urban areas.
The future of the drone industry looks quite promising for India. If the momentum is maintained by the central government and the state governments, India has every chance of becoming the drone manufacturing and drone services hub of the world by 2030 as projected by MOCA
With the expected favourable outcomes and job opportunities this sector would create, one can wonder whether this new industry will be our next best bet?