Let the Festivities Begin: Growth, Hiring Galore And More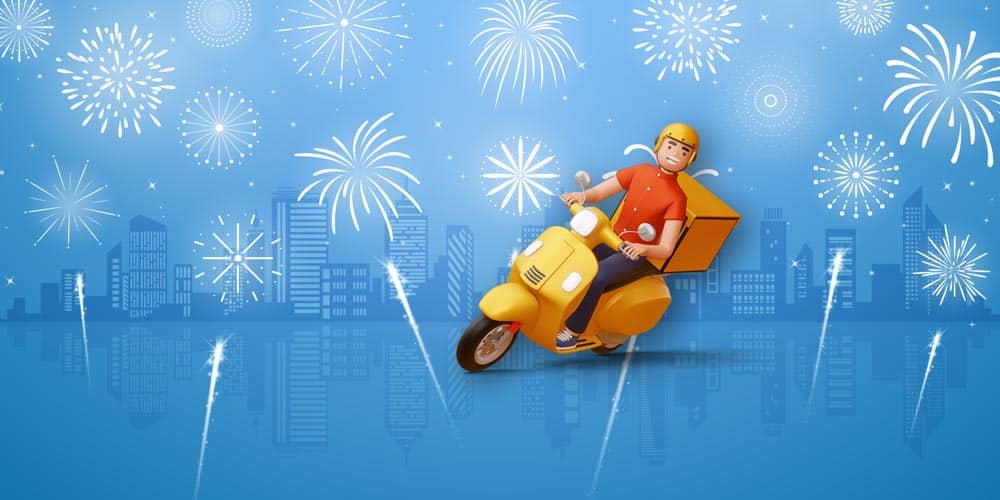 The festive season in India, which lasts from October to December, is the busiest shopping time of the year for customers. In the post-pandemic era, this season has become even more important to Indian buyers because it provides a glimmer of hope in a time of uncertainty. When it comes to buying from the comfort of one's own home, shoppers feel like they've been granted an extended holiday season. During the festive season, there is always a bustle and a rise in the number of customers. Last year, sales increased by 23% year over year.
There is no better time of year than the festive season for Indian retailers and online sellers.
There is skepticism that this year's holiday season won't be as merry as previous year's because of the current global turmoil. There are many reasons to believe that the dismal mood will stay in the air and surround the festive season:
Several countries have yet to recover from the impact of Russia's invasion of Ukraine, which brought the entire globe to a standstill.

Fuel costs have skyrocketed as a result of the supply chain breakdown, which has had a knock-on effect on other goods and services.

An increase in interest rates by the Federal Reserve, and an increase in inflation combined generated a significant shift in market mood

As a result of the high levels of attrition and a shift in investors' thinking from the growth at all costs mantra to sustainable and profitable growth.
Yet, we believe that there are many reasons why the above-mentioned factors may be debunked and the growth story of our festive season will continue to grow:c
E-Commerce platforms have been able to reduce delivery times to clients, which has allowed for an increase in online sales over the festive season. This has been made possible by numerous affordability plans and short delivery deadlines.

There has been an increase in sales outside of metros and tier-1 cities due to the pandemic.

By the end of 2022, India is predicted to have 372 million online shoppers, an increase of 25 per cent from the current 297 million.

E-commerce adoption in India has been driven by the rapid expansion of the internet and digital infrastructure in the country. For these rising e-commerce needs, internet penetration and the increased share of the organized sector have laid the groundwork.

In order to develop customer trust, brands are creating an omnichannel presence that includes both online and brick-and-mortar retail outlets. Retailers have been proactively implementing omnichannel as part of their strategy across a variety of businesses and categories

Many online retailers in India are offering many mega-deals over the festive season, including substantial discounts and financing options on various payment modes. E-commerce businesses. Many businesses in e-commerce work with FinTech firms to give customers credit access, allowing for a seamless buying experience for all parties concerned.

As per a study by Forrester in the previous festive season, in order to increase total fulfilment, online marketplaces invested heavily in expanding their labour, infrastructure, and vendor base beyond major metropolitan areas and smaller tier communities. For example, to cater to the festive season, Amazon hired around 110,000 seasonal workers to keep up with demand. Amazon's fulfilment centres are spread across 15 states, and its warehousing capacity has increased by 40% over the past year. Last festive season, Flipkart had also increased its storage, fulfilment, and supply chain capabilities. More than 75,000 new merchants had joined Flipkart, bringing the overall number of sellers to 375,000. This trend is set to continue through this year's festive season as well.
Now that we've understood the reason for the dip in consumer sentiments and also the possibility of the bright light at the end of the tunnel for this year's festive season, here's what we believe e-commerce and retail firms should be doing to tackle the growth and human resource challenges during the upcoming festive season:
Hire gig and temporary workers to facilitate the increasing demand. According to a breakthrough analysis by NITI Aayog, India's gig economy will grow to 23.5 million workers by 2029-30, an almost 200 per cent increase from the current level of 7.7 million

Address issues like Lack of job security, irregularity of wages and uncertain employment status for workers and the platform owner-worker relationship which is classified as something other than an employment contract, and increase transparency and trust amongst gig workers

Prioritize improving the quality of the workforce, rather than simply increasing the number of employees

Outsource the company's payrolling activities to staffing organizations which can help firms grow leaner, clearly focus on business objectives and achieve business goals efficiently

Extend sick leave, health insurance, and pension benefits to gig workers and their families as a kind of social security

Rely on support from growing third-party logistics players. Industry leaders believe that new-age logistics companies predict a multi-fold increase in shipments during the festive season and have to be prepared to handle the challenge with measures like capacity expansion and increased hiring.
As a result of customers across all age groups expected to spend more than they did the previous year, the holiday season will lead to a boom in hiring. A significant portion of this intention is due to loosened regulations, as well as the availability of great festive deals and discounts, as well as an increase in online purchasing.
In order for organisations to avoid having to deal with high attrition rates over the festive season, they must ensure that their employees' loyalty to the company is established. A company's growth can be maximised with the support of staffing companies like TeamLease through the formalisation of workforce and payroll administration which in turn will help the companies focus more on the nitty-gritty of their core business.
A consumption-demand driven economic rebound in the new normal appears to be in good shape, thanks to improved consumer sentiments and a jump in sales. Due to shifting economic needs and the rapid pace of digital change, the eCommerce sector is seeing a shift in the hiring environment. Jobs are becoming more mobile, and this is causing a shift in the markets and an increase in demand for new-age roles.
Many industries that fared well during the pandemic experimented with the gig economy's dynamics of flexibility and task-based hiring, especially the eCommerce sector. Workforce augmentation via the gig model is growing into an important capacity and capability development model that will become an important part of the flexible workforce model of the future. Hybrid work models will continue to evolve as India's knowledge economy is supported by favourable government policies, resulting in the availability of more skilled workers and a greater number of jobs.
With an approximate growth of 20% in the previous festive season, will this year's festive season grow at a similar pace?
What do you think?