Optimistic Employment Outlook for Services Sector this Quarter, Nearly 73% of Employers Intent to Hire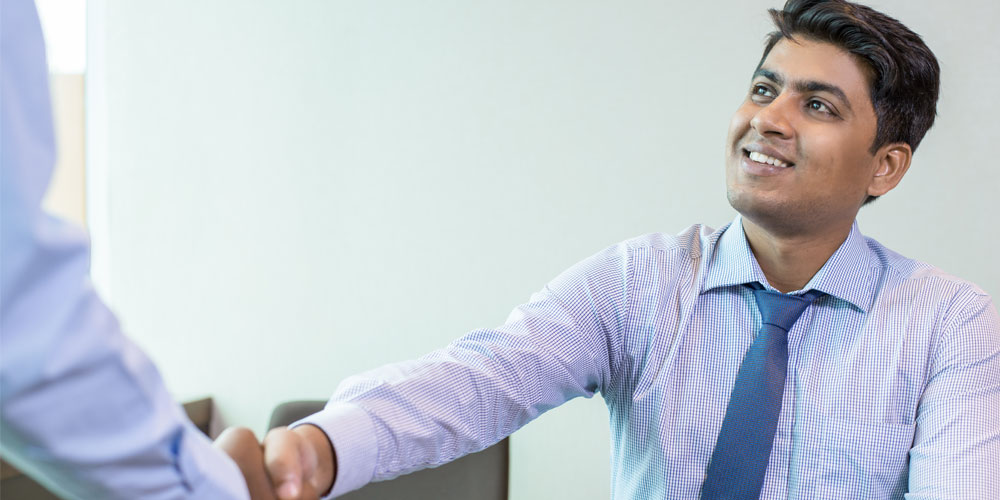 Jobs have always been used as a benchmark to judge the economy. What is the recent data indicating? Are things moving on the right track, or are they slow on the uptake?
According to our recently released Employment Outlook Report Q3 FY23 (Services and Allied Industries Edition), the labour market indicates strong hiring sentiments for this quarter in the services sector. The report result on intent to hire statistics is based on a survey and analysis carried out covering small, medium and large companies across the 14 services sector across India.
Overall, the trends indicate that an increase in hiring intent is imminent, and the next few quarters could very well see the intent to hire cross the 70% mark. 73% of employers in the services sector look forward to increasing their hiring Intent for Oct-Dec 2022 quarter. Metro & Tier-1 cities precede the hiring brigade with the highest intent to hire at 95%.
Intent to hire trend in India
The hiring intent in India for the third quarter (Oct-Dec 2022) sees a relatively moderate growth compared to the past two quarters. The pick-up in growth stemmed from a rebound in new business gains as firms continued to benefit from lifting COVID-19 restrictions and on-going marketing efforts. On the back of these developments, the overall intent to hire exhibits a substantial increase at 4% for the third quarter from the previous quarter – an increase from 61% to 65%.
Speaking about the global intent to hire trend, the pandemic time witnessed unemployment at a scale far more significant than during the global financial crisis over a decade ago and higher than other advanced economies. However, the turnaround is complete, and the employment rate remains elevated in 2022 and is expected to decline further in 2023.
Employment outlook by sector
Telecommunications and financial services sectors display an impressive intent to hire, rising by more than 6%. While educational services, retail (essential), logistics, travel & hospitality and consulting sectors witnessed a moderate 4-5% hiring intent growth.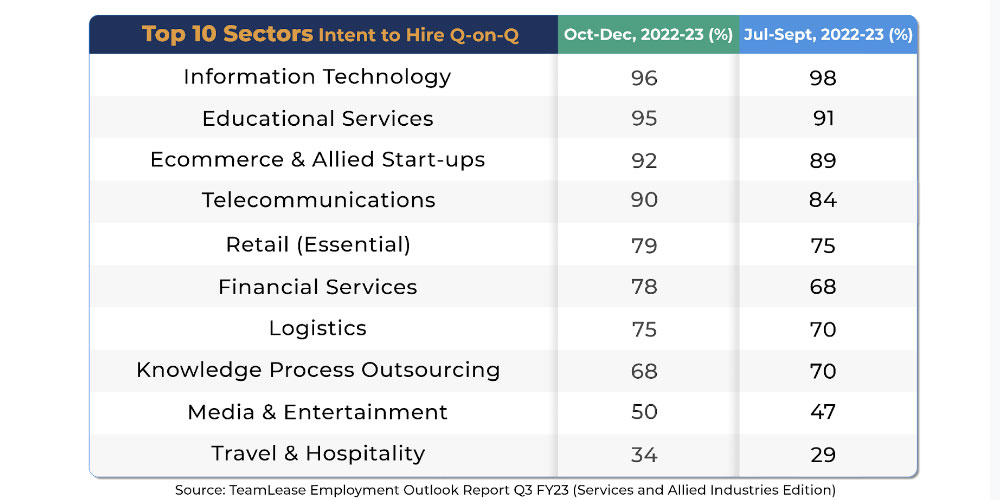 Large firms lead the hiring intent by a significant margin
Employers anticipate strong hiring intent across sectors by business size.
Small services firms are displaying a healthy appetite for growth and talent demand with a hiring intent of 57%, as demand for services – both India and global – surges in the aftermath of the covid pandemic.

Medium-sized businesses muster a relatively modest hiring intent (45%), seemingly unable to capitalise as much on current market dynamics as their small counterparts.

Large firms, on the other hand, lead hiring intent (79%) by a significant margin compared to both small and medium-sized businesses, as seasonality and large contracts from across the globe come to fruition.
Festive quarter brings in good tidings for freshers
While looking into the employment outlook, it can be seen that there is a festive demand in sectors such as E-commerce and Retail at the entry level. The festive quarter will likely bring in glad tidings for freshers and other entry-level talents as hiring intent for this category touches a robust 74% – the highest across all hierarchical levels.
The junior-level category is close on the heels of the entry-level with a hiring intent of 69%. Seasonal demand in sectors such as E-commerce and Retail (Essential) is driving the need for young talent. While mid-level hires enjoy a moderate level of hiring intent (48%), hiring intent at senior levels is at a relatively modest 34%.
Informational Technology and Sales functions continue their top spot in hiring intent
Compared to the previous quarters, this quarter's employment outlook forecasts a net positive outlook of hiring across functions. Informational Technology at 94% and Sales at 87% continue their leadership in hiring intent at levels significantly better than the other functional areas. The exponentially rising need for digitization and demand for technology professionals is the prime driver behind this uptrend.
Engineering follows not very far behind Sales with a hiring intent at 76%, signalling the demand for specialised and expertise-driven roles, especially in the Information Technology and Telecommunications sectors.
The service sectors that hire for Blue Collar roles – Retail and Logistics – perform at average-to-poor levels compared to other sectors, resulting in a hiring intent at 53%. Office Services and Human Resources lag far behind.
Key takeaways:
Some of the positive indicators to sum up the employment outlook Q3 FY23 report (Services and Allied Industries Edition) include:
Nearly 73% of employers in the services sector keen to hire this quarter

IT, Education Services, E-Commerce & Allied Start-ups, and Telecommunications sectors tops the hiring intent

Metro & Tier-1 cities precede the hiring brigade with the highest intent to hire at 95%

Bangalore (97%), Chennai (90%) & Delhi (86%) are among the top cities looking to hire

Entry-level roles sees the highest intent to hire at 74%, followed by junior-level roles at 69%

IT (94%) and Sales (87%) roles continue to be the highest in demand, followed by the demand for engineering roles

A remarkable double-digit attrition in the IT, Educational Services, Ecommerce & Allied Start-ups, and Knowledge Process Outsourcing Sectors is expectable
The trends driving transformation in the mechanics of hiring and hiring sentiment are not new but need to be abreast of the dynamics of the current labour market reality. Regardless of uneven economic growth hampered by Covid, the demand for skills in most service sectors and allied industries displayed a fairly impressive intent-to-hire trend. Thus, the prospect of hiring Intent in India's services sector will likely continue in the third quarter, with 73% of employers keen to upsurge their talent pool.
Do grab the latest copy of TeamLease Employment Outlook Report Q3 FY23 (Services and Allied Industries Edition)