Revamping Business with Workforce Formalization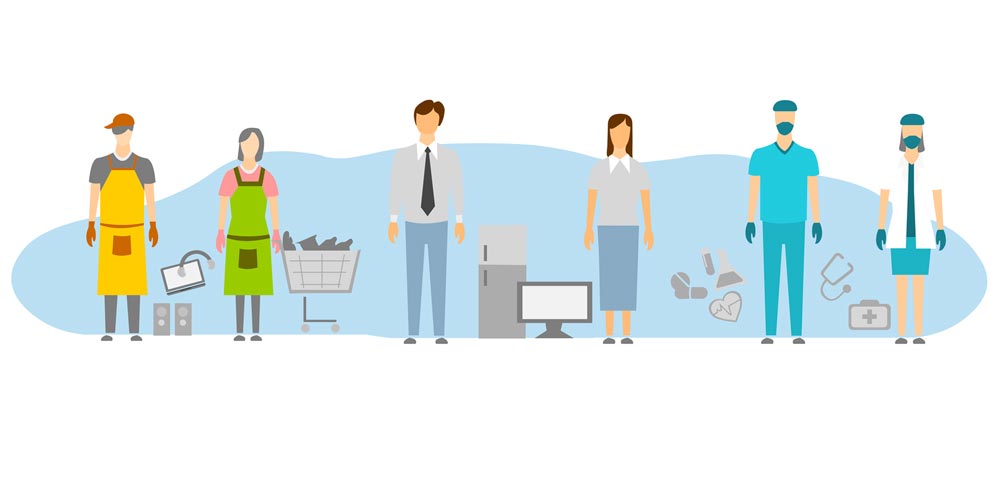 Organizing the Unorganized Workforce for Long Term Benefits and Risk Mitigation
India has been aspiring for a formalised workforce post-liberalisation of the economy in 1991 when 92% of the workforce were in informal jobs. Formalization means moving the informal or unorganized workforce into the formal workforce. The unorganized sector contributes nearly 50% to the GDP , and the proportion of the informal workforce is 83.5% of the total workforce in the country. On the flip side, the organized sector with only 10% of the workforce contributes to more than 50% of the GDP. This has been a difficult gap to bridge and we still have a long way to go. Technology, new business models and staffing innovations can be key enablers of this transformation, especially via the formalisation of the workforce.
Further, the GAPS framework (Ghost employee elimination; Attrition reduction; Productivity boost with Tech; Statutory compliance) provides a proven roadmap to workforce formalization for business success. This game-changer concept of the GAPS framework will help smooth business flows and operations and foster the formalization of the workforce.
This will support streamlining of social security benefits for all informal workers. This would mitigate the complexity associated with starting and running businesses.
The report on Workforce Formalisation aims at providing a roadmap for businesses to leverage workforce formalization to reinvent themselves and discover breakout growth, and covers the following critical elements:
Employer's willingness to formalize the informal workforce

Major challenges faced by employers in engaging with informal workers

Measures undertaken by employers for workforce formalization

Business Impact with GAPS Framework
FMCG, FMCD and Healthcare Sector Insights
The FMCG sector is the 4th largest employer in the country and contributes around 10% to the national GDP with massive employment opportunities. FMCG retailers are hiring to achieve greater business agility and position themselves to respond to the increased and continuing uncertainty caused by the pandemic. 
Our recent Employment Outlook Report for Q2 FY23 captures that the FMCG sector's intent to hire stands at 73% inching towards a 5 percentage points increase from the last quarter. This sector is largely constituted by 50% of the informal workforce and the employers are willing to formalize ensuring opportunities for income security, livelihoods and entrepreneurship. 
The pandemic-induced situation has highlighted the need to improve health protection in India for a large part of the country's population. As the informal economy relies heavily on centralized health care, there is an urgent need to protect people from economic downturns and ensure that the health infrastructure is adequate.This is an opportunity to bring a large portion of people who are currently without treatment, especially those who are part of the unorganized sectors of the economy, under a robust health infrastructure. 
A speaker from one of our latest webinars spoke about how the health insurance of the blue collared workforce during COVID was taken care of.
-This benefit motivated them to stay longer.
-An apprenticeship programme was launched to ensure there is a boost in productivity as well as provide safety to the employees. Their aim was also to convert them into permanent employees in the future.
Employers in these 3 sectors face a variety of challenges -the topmost being the managing of wages (45%), followed by lack of adequate skills/talent (21%) and frequent absenteeism (15%).
Outcomes 
As per the report on Workforce Formalisation, nearly half, 43% of all employers treat formalisation as a priority, and employers across sectors are split right down the middle on the question of priority accorded to formalization. Employers of large organizations report being greatly inclined towards prioritizing adopting formalization. An overwhelming proportion of this group (80%) has already initiated major steps in ensuring a formalised workforce. 
The FMCG sector is still respected by many and is considered the best place to work. The challenges faced by the FMCG sector today contribute to higher staff turnover, as talent chooses to move to other industries. This can be addressed by addressing the key areas: Absence of social security, lack of employee engagement, low wages, frequent business change, restructuring, and lack of leave and medical benefits. Good training and upskilling is a key to retaining talent and reducing attrition.
Healthcare organizations must manage the transition of current employees to new and different ways of working. They must also consider the needs of a future workforce that can deliver health outcomes in a health care system fundamentally different from today. Healthcare would adhere to statutory compliance as a step towards workforce formalization.
Way Ahead
As per the report on Workforce Formalisation, 61% of the employers in these three sectors expect attrition reduction to be the topmost business benefit as a consequence of formalization. In our recent webinar on 'Formalisation of Workforce for Productive Outcomes, one of the speakers spoke a few things about how soon organizations will implement formalisation.
Firstly, how companies can train their employees to develop the right skill set. Further, provide them with skill badges and make them feel recognised and part of the system. Secondly, to provide insurance plans to gig workers in remote areas. Also, there was also a discussion about the Ayushman Bharat Scheme launched by the government.
Organizations should not look at this as a cost-saving or a CSR activity but rather ensure employees feel a sense of belongingness. A stable workforce performs better. The USP has to be the safety of employees at all levels. Formalising the workforce entails not only treating the employees with social security benefits but also having a reward and recognition programme.
Formalisation of the Workforce will also lead to a boost in productivity as well as the economy. The composition of People, Process and Technology should be evolving as a support to more formal employment.
The Wheel of Reinventing Continues
Flexible sourcing provides opportunities to explore alternative practice models and partnerships, enables the transition to flexible work structures and methods, and ensures that organizations have the right skills at the right time to respond. This enables companies to find the right mix by focusing on personal availability.
56% Employers are priortising Workforce Formalisation with Third Party Payroll, where 64% have initiated major steps and 67% are planning to implement within a year.
Workforce formalisation will be an immense change for businesses and will not only reduce attrition, enhance productivity, optimize workforce but also make them realise that the benefits of third party payroll outsourcing could be an important step for their overall success.
Click here to download your copy of the Report on Formalisation of Workforce.