National Logistics Policy of India: Shaping Logistics of tomorrow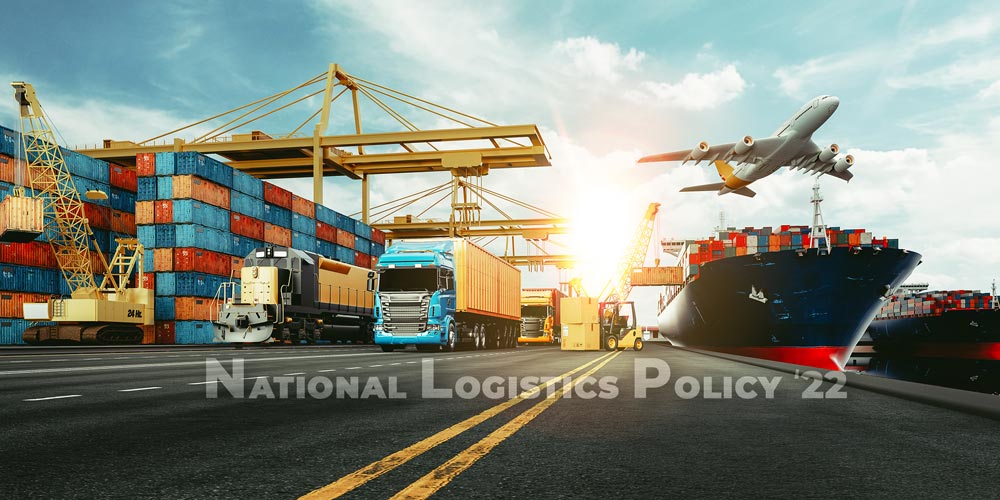 The Government of India issued a press release on September 17, 2022, announcing the approval of a new National Logistics Policy(NLP) by the Union cabinet, following eight years of development.
"The Policy lays down an overarching interdisciplinary, cross-sectoral, multi-jurisdictional and comprehensive policy framework for the logistics sector"
Along with the NLP, the government also announced the plan for developing ULIP (Unified Logistics Interface) to revolutionize the logistics sector.
It is anticipated that this policy will transform not just the road, rail, waterway, and air Logistics sectors in India, but also make India a formidable competitor not only in Asia, but in the global market as a whole.
What is National Logistics Policy?
Infrastructure, services (digital systems, processes, and regulatory framework), and human resource all have a role in how effectively logistics are carried out. The Prime Minister GatiShakti National Master Plan (NMP) for multimodal connecting infrastructure to different economic zones is now active. 
While the PM GatiShakti National Master Plan will focus on integrating infrastructure and networks, the National Logistics Policy will prioritise the effectiveness of services (including their associated digital systems, legal frameworks, and human resources). This will provide an all-encompassing plan for the growth of the logistics industry as a whole.
The Logistics Division of the Ministry of Commerce and Industry has created a "National Logistics Policy" to offer a uniform policy environment and an integrated institutional system, for expanding the logistics industry, with the aim of boosting the sector's competitiveness.
What's the vision?
"To build a modern, efficient, and resilient logistics sector that seamlessly integrates multiple modes of transportation and leverages the best in class technology, processes and skilled manpower in order to significantly improve country's logistics performance and reduce logistics costs"
What are the objectives of the National Logistics Policy ?
Logistics Efficiency

– Reduce logistical costs and storage times to boost the sector's performance and productivity.

Multi-modal Transport

– Develop multi-modal transport infrastructure, including MMLPs(Multi-modal logistics parks), to guarantee multi-modal cargo movement for maximum use of all transport modes.

Digital Tracking

– Utilize digital initiatives to improve in-transit warehousing and ensure freight movement is predictable, visible, and trackable and tracable.

Sector Modernization

– Improvements in the logistics industry will help support modern trade and e-commerce while also establishing a reliable supply chain that can be relied on to facilitate rapid emergency response.

Excellence in Logistics

–  To improve the quality of life of the working population, it is important to encourage logistics services to become more professional and high-quality and to create jobs.

Logistics Democratization

–  Logistics services should be made more accessible to all segments of society, including farmers and MSMEs

Raise India's

Logistics Performance Index

score from its current 30 to the 25-30 range within the next 5 years.

India aims to

cut logistics costs by 5%

of GDP over the next five years (Currently at 13-14% of our GDP)

Make a system to help you make decisions based on facts so that your logistics ecosystem can function smoothly.

ULIP (Unified Logistics Interface Platform):

The goal is to provide a framework that would allow for the authentication of all logistics-related transactions. The ULIP platform as a whole is divided into three layers namely Integration layer, Governance layer and Presentation layer. Under the Integration layer and the Governance layer, 30 logistics systems of 07 Ministries/Departments covering over 1600 fields have been integrated through 102 APIs with ULIP.
Why was the National Logistics Policy Launched? What are the challenges faced by the businesses?
One could reasonably speculate that India's logistics have advanced greatly and caught up to international norms as a result of the third-party logistics (3PL) revolution and its accompanying Same Day/Next Day delivery services. Quite the opposite is true.
Indian companies are currently facing a struggle on the logistics front. In India, the cost to carry one metric ton of goods by air is ₹18, by road it is₹ 3.6, and by rail it is merely ₹1.6 per metric ton per kilometer, hence it stands to reason that a sizable portion of India's goods are transported by rail.
But the reality is about 71% of India's trade is conducted via roadways, whereas just 17.5 % is transported via rail, and a similarly small percentage is conducted via waterways. If you're wondering why, it's because India simply doesn't have enough rails or trains to handle the volume of goods being transported.
Moreover, in India, passenger and freight trains share the same tracks, with the latter being given lower priority. There will consequently be holdups because of this Thirdly, you should always go with multi-modal transport for Last Mile and first mile shipments when sending anything by train.
Most businesses in India prefer to use road transport, where they simply reload trucks to get from A to B, rather than dealing with the complexities of the country's complex logistics system,
which involves more than 20 government agencies, 37 export promotion councils, 500 certifications, and 10,000 commodities.
How's National Logistics Policy going to help in employment and employability?
In India's Logistics industry, qualified workers are in short supply. The Logistics Skill Council predicts that by 2022, the logistics industry will have increased to 2.2 Crore employees. Still, closing significant knowledge gaps in the logistics industry is essential if we're going to satisfy this demand. Some professions, like truck drivers, find it difficult to attract and keep employees. This is because people have a negative connotation toward these occupations and they are paid less than average. Further, workers have few options for making up for the salary they lose while in training. Training programmes don't always cater to the needs of individual jobs. Coupled with the industry's high turnover, this reduces the financial motivation for businesses to invest in staff training. Telematics, warehouse automation, mechatronics, etc., are just a few examples of the specific talents that will be necessary in the logistics industry as technology advances.
Employment: The combined efforts of the federal, state, and private sectors, according to experts, may produce massive job and entrepreneurship prospects for thousands of individuals. More than 2.2 crore people in India rely on the logistics industry for their livelihood; with this strategy in place, a large influx of new workers is anticipated.
Employability: The supply chain's back-end operations and planning are where India is really starting to shine as a global powerhouse. So, it's a great chance to be at the forefront of providing skilled labour to meet the demands of international supply chains.
This can only be accomplished if both the national and state governments are equipped to the teeth with state-of-the-art technology.
The Department of Personnel Training (DoPT) is responsible for the training of government officials, hence they have developed the Integrated Government Online Training (IGoT) platform to create mandatory certificate courses with evaluation. It's an online school for civil servants across the country.
The National Logistics Policy of India is touted to be a policy that is going to transform the logistical landscape of the country and is expected to be the next big step in making India 'Atma Nirbhar'. Will this big step help India Inc. reach the $5 trillion mark? Only time can tell.