Third Party Logistics (3PL): Future of Multi-Client Fulfilment for E-commerce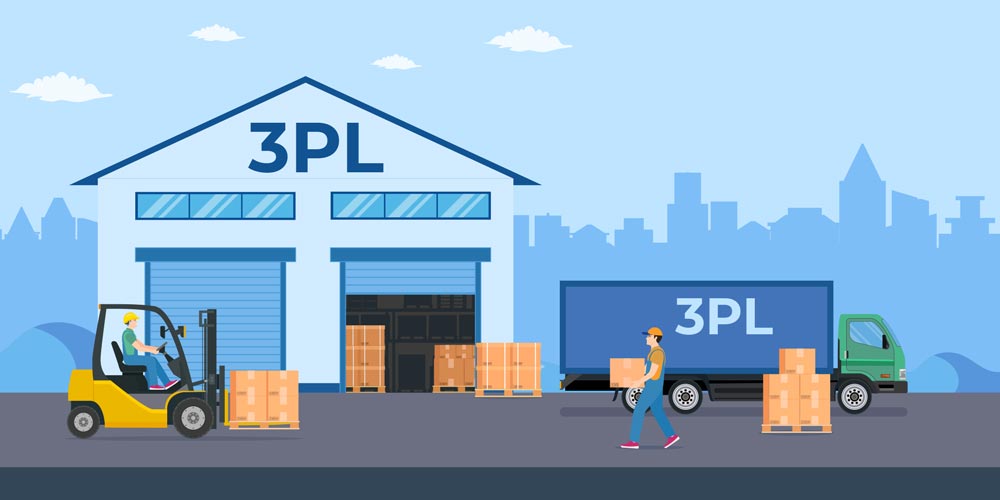 Third party logistics, or 3PL, refers to a layer in the supply chain that assists with logistics. While this may sound complicated, it is actually quite straightforward. To put it another way, if your company manufactures a product and then delivers it directly to customers, you have a 1PL.
If you then involve shippers like DHL or FedEx, you have a 2pl. Finally, let's say you supply a warehouse with your product, which then ships it to the customer on your behalf, this is known as 3PL. 
A 3PL can help with freight, warehouse management, distribution, and even industry-specific services like cold storage for food companies. However, if you're running an e-commerce business, you'll need a logistics operator who specialises in inventory management, fulfilment, packaging, and returns.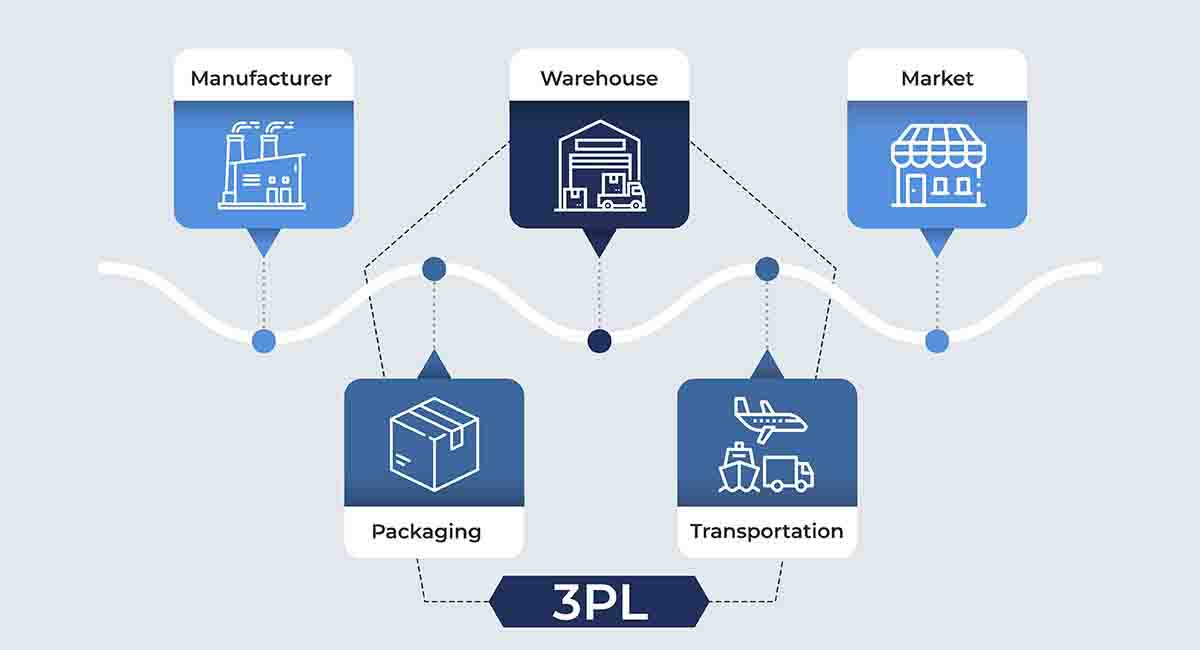 Between 2021 and 2025, the Indian third-party logistics industry is expected to grow by $10.7 billion. By 2025, the 3PL market in India is expected to grow by 8.36 per cent CAGR, according to industry estimations.
Companies that don't have the time or skills to deal with logistics often hire 3PL services. These services can help in cost savings and time by giving them logistics expertise, streamlining supply chains, and reducing waste. All in all, it provides a total order fulfilment service which will translate to excellent customer service.
3PL helps companies grow leaner and helps businesses focus on their core competencies. They assist companies to optimize their operations, bringing more efficiency and in return helping them scale. 
As we've established what a 3PL is and why it's necessary for companies today, let's talk about how big it can get:
The e-commerce growth story has altered dramatically throughout the years. For a long time, e-commerce companies preferred to handle all their own logistics in-house to speed up the delivery process. As more 3PL companies or specialised firms entered the market, companies began using third-party logistics (3PL) to complete their deliveries, and this transformed the market dynamic.
3PLs are being relied upon by brands, traditional retailers, and even horizontal marketplaces in order to meet the country's expanding demand. Companies realised that outsourcing logistics helped by providing a management system that improved cost-effectiveness and also provided customer satisfaction; thanks to reduced timelines and logistical efficiency. 
It's no secret that the third-party logistics (3PL) market is booming. Seeing the likes of Delhivery, TCI Express, XpressBee, and others soaring to new heights, it's safe to say that 3PL is here to stay.
Third-party companies like Delhivery, Ecom Express, and Xpressbees are used by Meesho and direct-to-consumer brands.
Renowned e-commerce and e-grocery brands like BigBasket, JioMart, Flipkart and BlinkIt have all relied on Zyngo EV Mobility as their logistics-delivery partner.
Additionally, 3PLs are also shifting their focus to the burgeoning Quick-commerce industry. Shadowfax Technologies collaborates with online marketplaces such as Flipkart Quick, BigBasket and quick-commerce platforms like Zepto, and Swiggy Instamart.
The third-party logistics (3PL) market is expanding at a rapid pace, thanks to advancements in technology and infrastructure such as e-way bills, fast-tags, e-invoicing, and GPS-based toll collection, as well as numerous government legislation.
 It is becoming increasingly necessary for logistics service providers all over the world, in order to help supply chain management and lower the prevalent logistics cost, innovate and simplify complex business operations. 3PL service providers use technology such as GPS, barcodes, RFID, drones, the Internet of Things (IoT), Artificial Intelligence (AI), cloud computing, robotics, and blockchain to reduce the amount of physical labour required in the supply chain.
What makes 3PL cost-effective?
The company can focus on its core operations thanks to 3PL, which makes the supply chain more cost-effective and responsive. In addition, third-party logistics providers can alert companies to supply chain errors that could be expensive and risky. 3PLs also help to reduce inventory holding costs by offering industry forecasting.
A third party logistics provider (or 3PL) manages the entire shipping process, whether domestic or international, to guarantee that your goods arrive on time. In short, a third-party logistics (3PL) provider may handle every aspect of a shipment, from the first negotiation of prices to the final delivery to storage, transportation, and loading. With a 3PL, the entire logistical process can be managed on a single platform, thanks to tools and processes that have been precisely created and trusted for use. The majority of third-party logistics (3PL) service providers are also open to adapting or integrating their digital platforms with those of the organisations they collaborate with.
Most products' total prices include significant amounts of money spent on logistics. It may sound counterintuitive, but outsourcing warehouse management and transportation management can save a lot of money if done correctly. Customers of 3PLs are plentiful. This enables a 3PL to secure lower rates for warehouse space, shippers, and domestic transportation suppliers. Seasonal inventory fluctuations can be accommodated because there is more space available within each warehouse. In order to adapt rapidly to changing market conditions, a well-established 3PL will have useful historical market information and data at its disposal.
Working with a third party logistics (3PL) provider, companies can save time and money by gaining access to the knowledge and resources necessary to manage supply chain logistics effectively.
How is Warehousing different from 3PL delivery?
Many people use the phrases "warehouse" and "fulfilment centre/delivery hub" interchangeably, however, these terms have very different meanings. While they are both big warehouses for firms that sell items, the use cases and services they provide are usually quite different.
To describe warehousing, we're referring to an organisation which holds goods for an extended period of time. Inventory is stored in bulk in warehouses, which are vast, industrial facilities created specifically for this purpose.
As part of the supply chain, a fulfilment centre/delivery hub serves as the hub for all logistics activities required to move a product from seller to buyer. Order picking and processing, packaging, and shipping are all handled by this system. Fulfilment centres are used by third-party logistics (3PL) providers to receive, process, and fulfil orders for e-commerce merchants seeking to optimise their operations.
A growing number of international and domestic investors are taking notice of the Indian warehouse sector. Demand for commodities has been at an all-time high, which has led to an increase in the e-commerce business and the need for warehouse space. The pandemic has also led to an increase in the need for cold chain warehouse space because of the growth of the organised food delivery market.
A result of this is that the warehouse sector has become a resilient asset class and is showing an upward trend in the real estate market. According to the Warehousing Market in India 2022 Report released by Netscribes (India) Pvt Ltd, the warehousing market in India is predicted to rise to ₹2243.79 billion by 2026, with a CAGR of 10.90%. The Indian e-commerce business is a big contributor to this rise. 
The expansion of third-party logistics is the second-largest factor driving the demand for warehouses. It was 3PL (third party logistics) that took over the most warehouse space in 2021, after e-commerce and other online retailers.
The newest industries, such as quick-commerce, which provide 30-minute and 10-minute delivery times in the last mile, will also be key drivers for 3PL warehouses.
With the aid of the government and developments in technology, this industry is sure to be a prominent job creator in the future.
Due to the need to curb the spike in demand  during the

festive season

,

the intent to hire in the Logistics sector has grown to 63% as per

TeamLease's E

mployment Outlook Report (July-September)

The good news is that the attrition rate in the logistics sector has reduced by 2.3% from the previous quarter

With

drones

being tested out for mid-mile logistics

, newer roles such as drone pilot, drone maintenance specialist and drone flight planners would also be emerging in this sector

It is estimated that the 3PL industry in India is planning to employ about 0.8 million more people by the end of 2022. 

These new professions, such as consignment booking assistant, e-documentation assistant and courier delivery executive, Warehouse packer, inventory clerk, logistics and distribution manager, supply chain analyst, supply chain coordinator, and supply chain manager are the result of the necessity to keep up with the changing industry scenario and the implementation of technology on a big scale.

Demand for AI professionals has also increased the need to facilitate optimization of capacity planning, enhancing efficiency, reducing expenses, and increasing production, all while ensuring a safe working environment for employees
What does the future of 3PL look like? 
Warehouse facilities along the busiest commercial routes and outside of large metropolitan trade hubs are essential for long-term growth and resilience. During arbitrations and bilateral disputes, logistics and supply chain documentation should be kept in an orderly inventory for claim substantiation.
Due to an increase in demand for online platforms during COVID and expansion into Tier 1 and Tier 2+ cities, Tier 2 city demand has risen.
It is predicted that by 2025, more than half of the volume will come from Tier 2 cities, while the tier 1 and metro cities will only account for 33% of the total by 2030. Retail, e-commerce, grocery stores, and third-party logistics providers are driving the last-mile delivery demand, and top warehousing developers plan to increase expansion in tier-II areas and within metros this year.
There has been such an explosion in 3PL that it has spawned 4PL and 5PL as well. Integrator of the supply chain: that's what 4pl service providers do. The 4PL assembles and controls an organization's Supply Chain and its multitude of partners' resources, competencies, and technologies. It provides a greater level of effective supply chain management to customers, allowing firms to totally outsource their logistics process to external professionals for better management. Supply chain management includes shipping, warehousing, physical locations, and information movement. 
A 5PL will handle all aspects of supply chain management for clients, from planning and organising to implementing their logistics solutions. This means that they'll be responsible for every single supply chain in the company.
5PLs are more beneficial to e-commerce enterprises than bricks-and-mortar organisations because of their focus on big data and technology-driven efficiency.
Consumers today are more tech-savvy and demand faster delivery services, which is fueling a boom in the logistics industry. It has become increasingly common for enterprises to rely on 3PL service providers to increase their operations and assure cost-effective delivery services, which is beneficial to both the organisation and the consumer.
In order to keep up with the exponential growth projected in the third-party logistics industry, e-commerce and retail businesses will have to rely on the services provided by third-party providers. Employees, the most valuable resource an organisation has, require a coordinated effort between staffing firms and third-party logistics (3PLs). Being a part of the rapidly growing 3PL market is an exciting opportunity for those in the workforce. The 3PL industry will be one of the major employers in the coming years and is an exciting place to be.